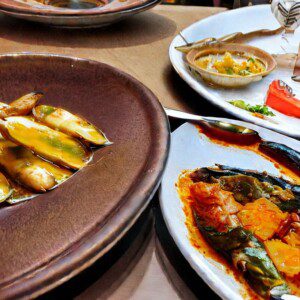 While travelling around Catalonia (or Spain), you'll need to be aware of the concept of the "menú del dia" (menu of the day). If you've been to France, you'll probably be familiar with it. Basically, most restaurants offer a menu of the day from Mondays to Fridays. It normally consists of a choice of starter, main course, and dessert, and often comes with water and/or wine. Coffee is sometimes included and bread normally always is. In more frequented areas, you'll often see the menú del dia written on a board outside the restaurant, but in more less busy areas, the menu will often be written on a piece of paper known only to the waiter! They read it out at the table, or as they say in Catalan, "el canten" (they "sing it").
If you're obviously a tourist, they will assume you don't speak Catalan or Spanish so often will just give you the regular menu (la carta). It's not that they want to earn more money off you, it's just that it's easier for them! If they do give you the carta (they probably will anyway), check to see if there is a "menú del dia" printed inside it. If not ask them if they have a menú del dia (pronounced men-ooh del dia).
A menú del dia will typically cost around 12-15 euros (closer to 20 in the more expensive restaurants). It is normally only served at lunchtime, and on Thursdays, the tradition is to include paella. Some restaurants have set menus or tasting menus for the evenings.