1. Kestrels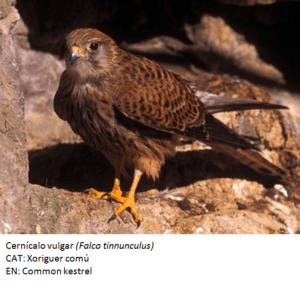 The common kestrel (Falco tinnunculus), known as a xoriguer in Catalan and a cernícalo (Spanish) is a very common sighting, as a family nests in the nearby church tower.
2. Serins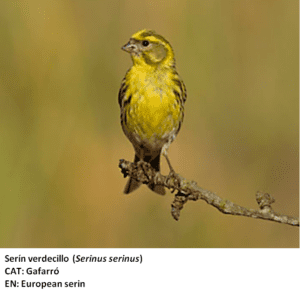 The European serin (Serinus serinus), known as a gafarró in Catalan and a serín verdecillo in Spanish, is easier to hear than see, but you just need to follow the sound. Often sits atop a TV aerial or telephone wire singing to its heart content. Beautiful uplifting song!
3. Collared doves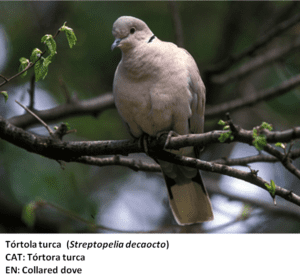 The collared dove (Streptopelia decaocto), or tórtora turca in Catalan and almost identically tórtola turca in Spanish are easy to spot (and hear) on a daily basis. These "love birds" fly from perch to perch nearby, looking for the best view.
4. Barn swallows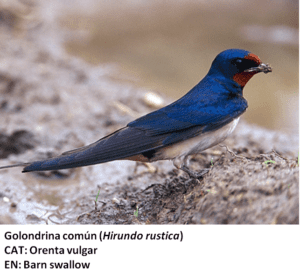 The barn swallow (Hirundo rustica), oreneta vulgar in Catalan and golondrina común in Spanish, can be difficult to distinguish from the housemartin, but the village skies fill with these beautiful insect catchers from March to September.
5. Housemartins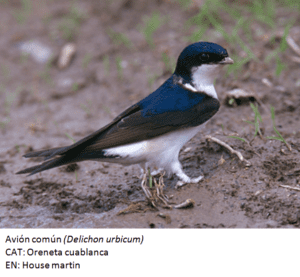 The housemartin (Delichon urbicum), as its Latin name suggests is an urban creature, difficult to distinguish from the barn swallow. They return each year to their same nests and when their young are old enough, they sleep along the telephone wires lining the narrow streets. Known in Catalan as oreneta cuablanca (literally white-tailed swallows) and in Spanish as avión común (common airplane!). They have a white belly.
6. Sparrowhawks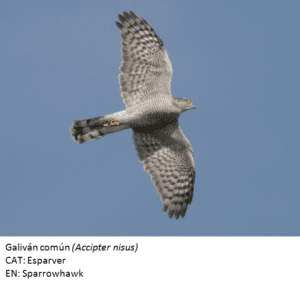 The sparrowhawk (Accipter nisus) is not as easy to spot as the kestrel, but sparrows are aplenty and so are these hawks. Known in Catalan as an esparver (many locals mistakenly call the kestrel, el xoriguer, an esparver). The Spanish name is galiván común.
7. Black redstarts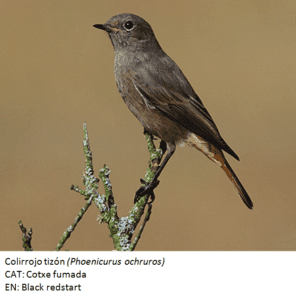 Known in Catalan as a cotxe fumada and in Spanish as a colirrojo tizón, the black redstart (Phoenicurus ochuros) has a distinctive song that starts early in the morning. Can often been seen hopping along the neighbouring rooftiles. Easy to spot because of its long red tail.
8. House sparrows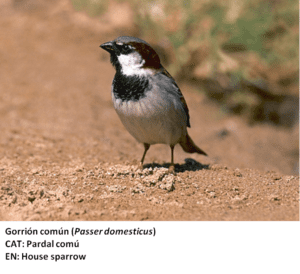 After the pigeon, the house sparrow (Passer domesticus) is by far the easiest bird to spot, constantly repairing its nest and feeding its young among the cracks of the roof tiles. In Catalan it's known as a pardal comú and in Spanish as a gorrión común.
9. Swifts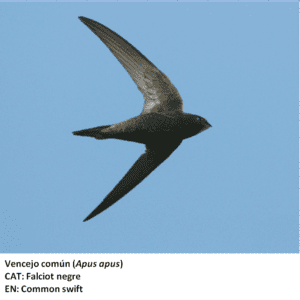 The common swift (Apus apus) has one of the easiest Latin names to pronounce! It's called a vencejo común in Spanish and a falciot negre (the "c" is pronounced like an "s") in Catalan. Another great insect catcher that provides endless acrobatic delights right in front of your eyes.
10. Eurasian scoops owls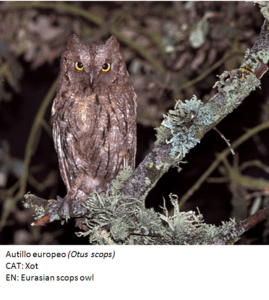 We've never seen a Eurasian scops owl (Otus scops), but it has a wonderful sound that you can hear most nights. It's like a slow alarm, warning you your battery is fading! Lives in the nearby castle grounds. The Catalan name is the wonderful word xot (pronounced "chot") and the Spanish is autillo europeo.
More…
There are so many other birds to include here, we might just have to do part II! There are nearby birdwatching outings and several hides if you're a avid birdwatcher and/or photographer.