1. Visit Montblanc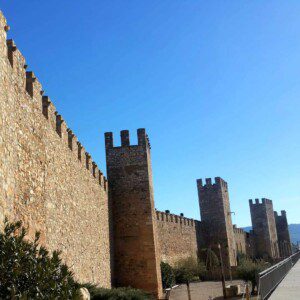 Montblanc is a medieval town located just 8 km from Barberà de La Conca. You can get there by car or rent one of our e-mountain bikes to get there cross country. It's also within reasonable hiking distance (we can always come pick you up if you don't fancy the hike back). Montblanc is a great size for just walking around and exploring. The main square is dotted with bars and outdoor terraces to stop off for refreshments or some tapas. There are two guided walking tours: one for families (with special activities for kids) and another for people of all ages. It has six visitable monuments:  Museu del Pessebre de Catalunya (Catalan Crib Museum),  Museu Comarcal (Regional Museum), CIAR and Museu d'Art Frederic Marès (Rupestrian Art Interpretation Centre and Frederic Marès Art Museum), Església de Santa Maria (church), Antic Hospital de Santa Magdalena (former hospital now a documentation centre), and Santuari de la Serra.
How to get to Montblanc by car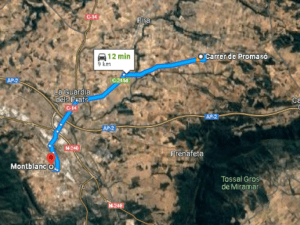 2. Visit Conesa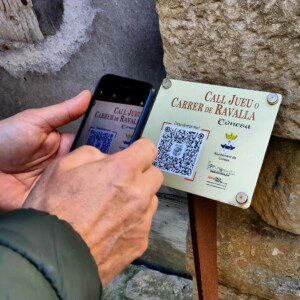 Conesa is a little medieval village located about 15 km from Barberà de la Conca. Again, it is in easy reach by e-bike. It's also included in our car routes (coming soon!). Conesa was included in Spain's list of National Cultural Assets of Interest in 2011.
How to get to Conesa by car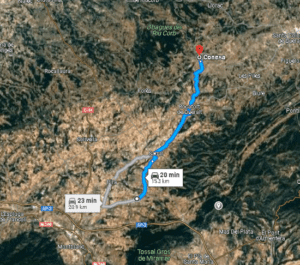 3. Visit the Rural Museum of L'Espluga de Francolí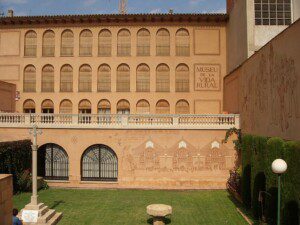 The Museu de la Vida Rural, located in L'espluga de Francolí, Catalonia, is a cultural institution offering a vivid journey into the rural history of the region and the traditional Catalan rural way of life. It has a rich collection of agricultural and rural artifacts and tools, exhibits, and interactive displays. It also has temporary exhibitions and organises a range of cultural activities for all ages.
How to get to the Museu de la Vida Rural by car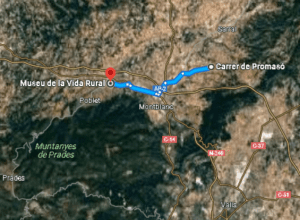 4. Visit Forès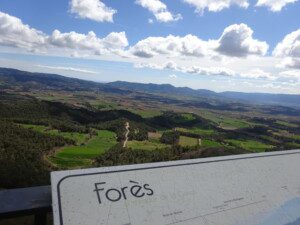 Forès offers spectacular views of the rolling countryside,vineyards, and distant mountains of La Conca de Barberà. On a clear day, you can also see our village, Barberà de la Conca. It has a well preserved medieval centre. At the time of writing, the bar, which has a terrace with the same breathtaking views, is currently closed, but we hope it will reopen soon.
How to get to Forès by car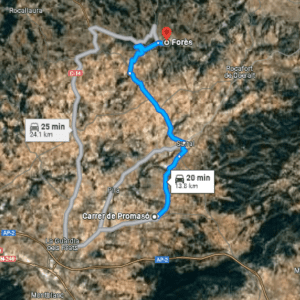 5. Visit the caves in L'Espluga de Francolí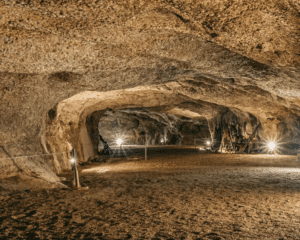 L'Espluga de Francolí, located about 15 km from Les Voltes, has a rich geological history that has led to the formation of several caves. One of the caves, La Cova de la Font Major, hosts prehistoric cave paintings, but access is restricted to scientists and reseachers. The other caves are visitable with a guided tour that takes you underground to learn about geology, history, archaeology, and prehistoric life. The guided tour is perfect for kids and adults.
How to get to the caves by car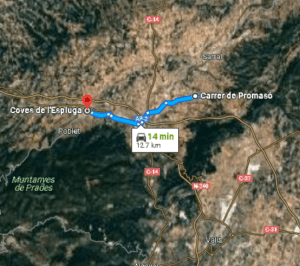 6. Sample some wines on top of a medieval tower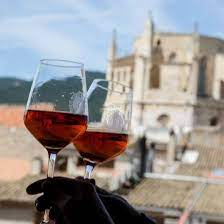 Every Saturday, Marta, the architect behind the winery Vins de Pedra, organises a wine tasting morning atop a medieval tower with impressive views of the medieval town of Montblanc. To taste some delicious wines and learn more about the history of Montblanc's towers, click here for more information.
7. Visit Poblet Monastery, a UNESCO World Heritage Site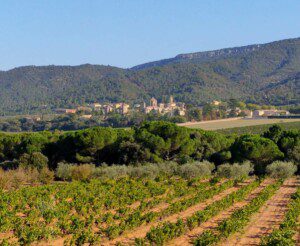 Poblet Monastery is one three Cistercian Monasteries within easy reach of Les Voltes. It was designated a UNESCO World Heritage Site in 1991. It is nestled among rolling hills and vineyards. You can walk around the grounds and visit the church for free. There are also guided tours. If you are planning on visiting the three monasteries, you can buy a pack of tickets for a reduced fee. There is a large tourist office within the grounds and also a great restaurant. For a full day, combine a visit to the monastery with a walk through the adjacent natural park. You can also rent one of our e-mountain bikes to get there. We have an additional service where we can drop you off and you cycle back or pick you up after your visit. You can also combine a visit to Poblet monastery with any activity in nearby L'Espluga de Francolí (caves, rural life museum…).
How to get to Poblet by car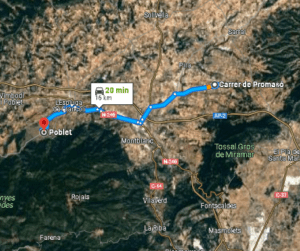 8. Visit Fassina Balanyà, an old distillery in L'Espluga de Francolí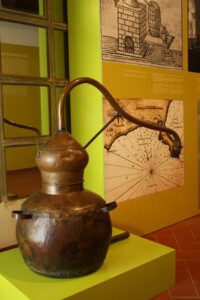 We love this little museum. Fassina Balanyà is an old distillery where they used to make spirits. They have guided visits that show you the science behind distillation and also explain how the whole process was a perfect example of a circular economy, starting with the mush that is left after pressing the grapes right through to the end, where the women would come to pick up the left over ash to use as a natural clothes whitener.
How to get to the distillery by car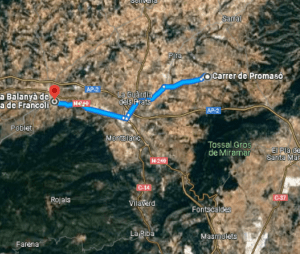 9. Visit the Glass Blowing Museum in Vimbodí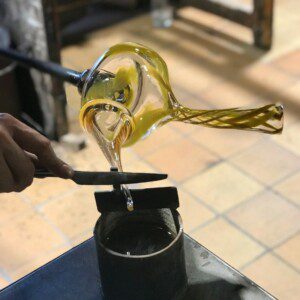 The Museu de Vidre in Vimbodí has a permanent blown glass collection and a shop and also organises live demonstrations. According to the website at the time of writing, the demonstrations are held from Wednesday to Sunday from 9:30-13:00 and Saturdays from 17:00-19:00. The museum is open Wednesday to Sundays from 9:00-13:30 and Saturdays and Sundays from 9:00-14:00.
How to get to the glass blowing museum by car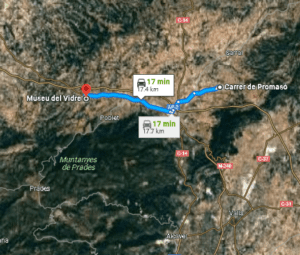 10. Hike or cycle cross-country to Ollers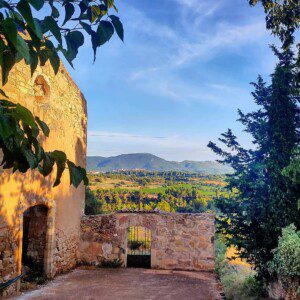 Ollers is a very cute little village attached administratively to Barberà de la Conca. It's an hour's walk or a 10-minute ride by e-bike each way. The photo shows Barberà as seen from Ollers. Pack some snacks as there are no bars in Ollers (there are fewer than 20 people who live there all year round). Stop off on the way to snap some photos of El Pont d'Ollers, an old stone bridge that is a listed heritage asset.
How to get to Ollers on foot or by bike