Catalonia is one of Spain's 17 administrative regions, known here as "autonomous communities". It is nestled in northeastern Spain, bordering France, and like much of Spain offers a variety of landscapes and climates. Many of Les Voltes' guests from abroad combine these landscapes, spending a few days in Barcelona, a few days in the countryside (that's us) or mountains, and a few days at the beach. You can really travel all year around. Each season has its perks, though with the effects of climate change, things are getting more and more difficult to predict!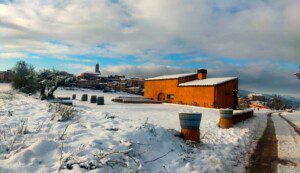 Winter (December – February)
Winters in Catalonia are relatively mild, especially along the coast. In cities like Barcelona, the temperature typically ranges from 8°C to 15°C (46°F to 59°F). Snow is common in mountainous areas, such as the Pyrenees, attracting skiers and snowboarders. Our region, La Conca de Barberà, is located inland, about an hour south of Barcelona and 40 minutes from the coast (Costa Daurada). We get snow for a day or two about every two years. Mornings can be frosty and some days, spectacular fog rolls in and lies low, before lifting around 9:00/10:00 am. Temperatures can be as low as 0º on cold winter mornings, but the sun soon warms up the air, giving way to a beautiful fresh day where you can easily sit in the sun.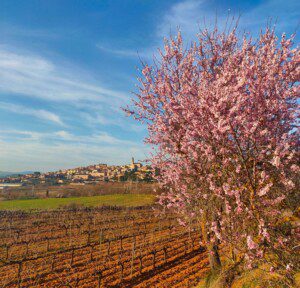 Spring (March – May)
Spring is in a nutshell beautiful in Catalonia, with gradual hikes in the thermometer and flora bursting into life. In our region, La Conca de Barberà, the star of the show in February and March are the almond trees, filling the landscape with beautiful bursts of pink and white. It's also when the vines start to bud. Temperatures range from about 10°C to 25°C (50°F to 77°F), making it perfect for outdoor activities and exploring the region's natural beauty. It's the idea time to explore the surrounding countryside on one of our e-mountain bikes, and it's also when the army of swallows and swifts arrive from southern climes.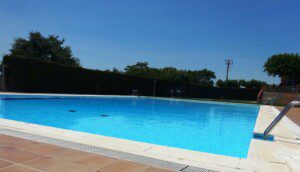 Summer (June – August)
Summers in Catalonia are hot and seem to be getting hotter, but it's when Barcelona and beach resorts are at their busiestTemperatures range from in the low 20s (high 60s low 70s Farenheit) to the high 30s (mid 80s Farenheit).  If you book in a city or beach resort, make sure it is climate friendly, fitted with fans, blinds (to block out the hot sun), and air-conditioning if possible. We have all of these at Les Voltes (plus thick stone walls), but temperatures are generally more pleasant in our village. The climate is dry and we are blessed with a sea breeze that starts early afternoon. We even advise guests to take a jacket. Depending on where you go, the landscape can be quite dry, but where we are, the vineyards are at their height, meaning that everything is green.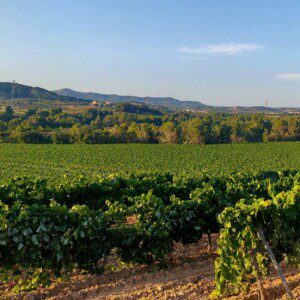 Autumn (September – November)
Autumn is a favourite season for many visitors to Catalonia due to the mild weather and beautiful colours. In 2022, we had more international visitors in October than at any other time of the year. Temperatures range from 10°C to 25°C (50°F to 77°F). In our area, it's grape harvest time. Shortly after harvest (September), the vine leaves turn a wonderful array of yellows, golds, and reds, which dotted against the again-green fields, make a wonderful tapestry.